Bayfield Apostle Islands Sport Fishing Links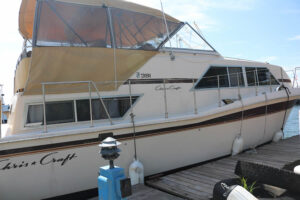 Bayfield, Wisconsin Lodging on your own Private Yacht!
After a very hard day of fishing, come and relax on the "Don't Worry". Our floating hotel can accommodate up to 8 people.
The Don't Worry is harbored directly across from the "Nauti-Gal" in Blackhawk Harbor.
Whether you are fishing with us or not, the "Don't Worry" is available for lodging during your trip to the beautiful Bayfield area.